Maple month has arrived! Click 'continue reading article' for some fun facts, info on maple weekend, and a tasty recipe!
Ladies and gentlemen, it's that time of the year again, maple month has arrived! We are so lucky to have a plethora of local maple products in our store. From syrup to candies to pancake mix to maple leaf ornaments, we have it all! Aunt Jemima and Mrs.Butterworth ain't got nothin' on us. Did you know? It takes 40 gallons of maple sap to translate to just one gallon of maple syrup. It's so darn tasty, now I'm hungry for pancakes. Speaking of pancakes, the Canterbury Maple festival is this weekend (March 23/24) and they're offering a pancake breakfast both Saturday and Sunday from 9-11. The maple festival is a perfect place to learn more about maple syrup and how it's made. If you don't live in the area, here's a list of other sugar houses in New Hampshire participating in maple weekend! https://nhmapleproducers.com/maple-month/  We can't wait to celebrate with a sweet treat and we hope you join in the fun too! Here's a fun recipe we found for maple ice cream if you'd rather enjoy maple weekend from the comfort of your own home :)
Ingredients
2 cup (500 mL) 35% cream
1 pinch salt
1 cup (250 mL) dark amber maple syrup
6 large egg yolks
1 cup (250 mL) milk
½ cup (125 mL) maple flakes
Directions
1. In a heavy saucepan over medium heat, bring the cream to a simmer with salt.
2. In a bowl, whisk together the maple syrup and egg yolks. Pour about one third of the hot cream into the egg yolk mixture, whisking constantly, then stir the egg yolk mixture into the remaining cream into the saucepan. Stir to blend well. Lower the heat to medium-low heat, stirring constantly, until hot and slightly thickened. Do not boil.
3. Pour through a strainer into a bowl. Stir in the milk and vanilla. Cover and chill thoroughly.
4. Freeze in your ice cream machine following manufacturer's directions. Add maple flakes.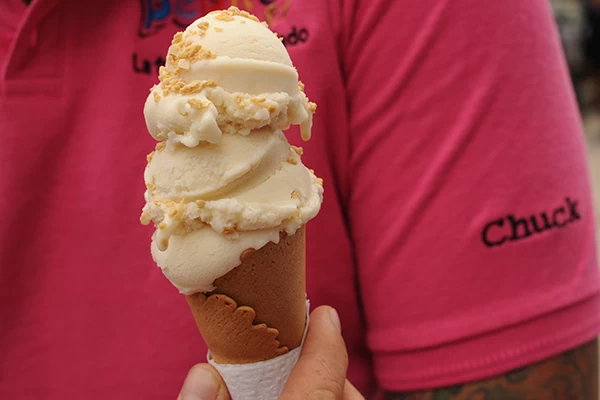 However you choose to celebrate maple month, we hope you have a lot of fun! (and a lot of sugar) :)